The Advantages and Description of Bucket Elevator:
The machine has the advantages of big conveying capacity, high hoisting height, stable and reliable running and long service life. Performance and parameter are in accordance with JB3926—85 'Vertical Bucket Elevator', which consults the international standard and advanced foreign standard and the towing circle chain is in accordance with MT36—80 'High-Strength Circle Chain for Mine.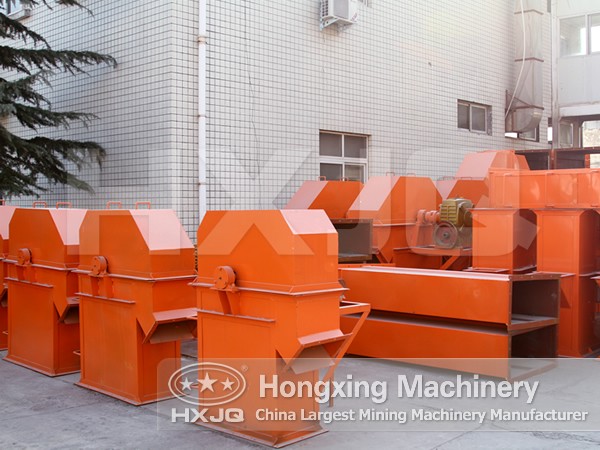 The Materials Can Be Transported by Bucket Elevator:
The machine is applicable for conveying the power, grain and block materials, such as coal, cement, block, sand, clay and ore. The bucket elevator is allowed to convey materials with high temperature when armed with special circle chain structure.
Technical data
Technical parameters of ring chainbucket elevator
Specification
Max.lifting height
(m)
Conveying capacity
(m³/h)
Max.size
(mm)
Pitch of buckets
(mm)
Motor prower
(kw)
TH160
25
7-12
15-20
400
3-4
TH200
28
8-15
20-30
500
3-5.5
TH250
30
10-25
25-35
500
4-7.5
TH300
30
25-35
30-40
500
5.5-11
TH315
40
30-40
35-45
512
5.5-15
TH400
40
45-60
40-55
512
11-22
TH500
40
65-80
50-60
512
15-30
TH630
40
100-120
60-65
688
18.5-37
TH800
40
130-150
65-75
920
22-45
Technical parameters of wire belt bucket elevator
Specification
Max.lifting height
(m)
Conveying capacity
(m³/h)
Max.size
(mm)
Bucket Volume
(L)
Motor prower
(kw)
TDG160
80
34
0-20
2.6
2.2-11
TDG200
80
45
0-25
4.1
3-15
TDG250
80
71
0-30
6.5
5.5-22
TDG315
80
101
0-35
10
7.5-30
TDG400
80
158
0-40
16
15-45
TDG500
80
218
0-45
25
18.5-55
TDG630
80
345
0-50
40
30-90
TDG800
80
491
0-50
61
45-132
Plate chain bucket elevator
Specification
Max.lifting height
(m)
Max.lifting capacity
(m³/h)
Percentageallowed
(%)
Pitch
(mm)
Motor power
(kw)
10
25
50
75
100
Max.size(mm)
NE15
40
16
65
50
40
30
25
101.66
1.5-4
NE30
59
31
90
75
58
47
40
152.4
2.2-7.5
NE50
62
60
90
75
58
47
40
152.4
3-15
NE100
58
110
130
105
80
65
55
200
7.5-30
NE150
65
170
130
105
80
65
55
200
11-37
NE200
73
220
170
135
100
85
70
250
18.5-75
NE300
61
320
170
135
100
85
70
250
22-75
NE400
47
420
205
165
125
105
90
300
45-90
NE500
58
500
240
190
145
120
100
300
45-132