【Capacity】50-520t/h
【Materials】 granite, basalt, bank gravel, bauxite, cement clinker, quartz silicon carbide,limestone, river stone, etc.
【Application】 mining, metallurgy, building materials, highway, railway, water conservancy and chemical engineering.
The Major Equipment and Handling Materials of Sand Production Line:
Our sand production line mainly consists of vibrating feeder, jaw crusher, sand making machine, vibrating screen, sand washing machine, belt conveyor, electric control panel, etc, and capacity is 50-500T/H. Our sand production line is taking the leading role in the sand making industry. Sand production line can crush hard limestone, granite, basalt, river stone, etc, and it is widely used in hydropower, building material, highway, city construction, etc.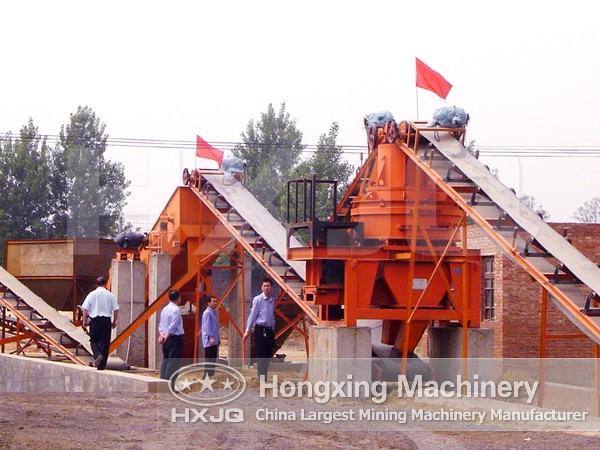 The Performance Characteristics of Sand Production Line:
It is highly automatic. The efficiency is high, operation cost is low, crushing ratio is high, capacity is high, and pollution is very low. Size of final product is even, and with good shape, which complies with requirement for highway.
In order to minimize occupation area, we try to make full use of space. Advanced electric control system makes the full line very smooth, reliable, and easy to maintain.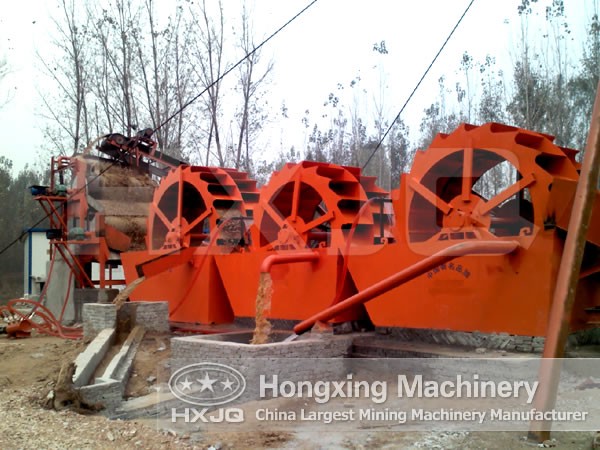 The Working Process of Sand Production Line:
The raw material is transferred to jaw crusher for primary crushing by vibrating feeder, then the crushed materials are transferred to sand-making machine through belt conveyor for secondary crushing. The materials crushed will be transferred to the vibrating screen. The materials with suitable size will be transferred to sand washing machine, after being washed, then clean final products will be discharged. The others with unsuitable size will be screened from vibrating screen, then they will be transferred to the sand-making machine, thus forming a closed circuit manifold cycles.